Special Exhibit of the Work of Local Artist Gustave Hoffman
In November 2019 a new and permanent collection of etchings created by Gustave Hoffman (1869 – 1945) was installed in the lobby by the side entrance of the museum.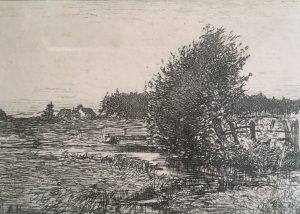 A resident of Rockville for most of his life,  Mr. Hoffman studied art and become known for his paintings and especially for details and hues of his etchings.
A collection of Mr. Hoffman's etchings was  donated to the Vernon Historical Society by Mr. Michael R. Sharon in honor of his father and mother, Dr. Michael and Jean Sharon, who provided medical care services for many community members in the Vernon/Rockville area.
New VHS Exhibit for 2019- Images from Vernon, Our Town
         To accompany the recent revision of Vernon, Our Town, a special exhibit in the Museum will display objects and photographs from the Society's collection that were chosen for the book. These rarely seen items will be on display during Museum hours- Thursdays 2pm to 4pm and on the second and fourth Sundays from 2pm to 4pm.
The old Dobsonville School
(site of Kentucky Fried Chicken)                                                                                                        Burying the Hockanum River during                                                                                                                                                                             Rockville Redevelopment
"Then and Now" Pictures on Display
A new set of "Then and Now: Photographs of Our Town- Past and Present", has been added to the exhibit that shows the changes to Vernon and Rockville over time.  The photographs can be viewed at the Vernon Collector of Revenue Office on Park Street in the Rockville section of Vernon. Assembled by VHS researchers, Carolyn Blouin and James Ashe, the exhibit features sets of historical and contemporary photos. Each set focuses on a location in town and includes photos of a mill, a school and a church. Seen together the photographs illustrate how the place has changed over time. Mr. Ashe and Mrs. Blouin selected historic photographs and vintage postcards from the VHS collection. Then they took contemporary photographs of the same site, trying to match the angle from which the original photograph was taken.
The exhibit in the Tax Office is the fourth in a series that will illuminate the changes that time and development have brought to our town.
The exhibit can be viewed in the Collector of Revenue department on the first floor in the Town Hall Annex which is open Monday thru Wednesday from 8:30am to 4:30pm, Thursday 8:30am to 7pm and Friday from 8:30am to 1:30pm.