The Vernon Historical Society is a volunteer operated, non-profit organization. The purpose of the Society is to create interest and activity in the field of local history.
The Museum building serves as a repository for a variety of collected materials that are available to the general public for research.
These collections aid historians, genealogists, and interested citizens in research, and provide source materials for exhibits, publications and programs.
During Museum hours, volunteers are present to answer questions and provide access to collected materials.
Another Successful Book Sale!
Thanks to everyone who donated books, shopped and worked at the sale. The Book Sale is our big fund raiser. Revenue from the sale supports maintenance of the Society's  collections and our building.
We will start collecting books again in January 2020. Thanks and keep reading!
Get Some CT History with Your Morning Coffee!
A new story from our state's history can appear in your email when you subscribe to Today In Connecticut History brought to you by the Office of the State Historian. Click here to learn more and start your subscription today!
Opening of Exhibit of the Work of Local Artist Gustave Hoffman
The Vernon Historical Society, 734 Hartford Tpke. in Vernon, CT invites the public to an Open House on Saturday, November 9, 2019, from 2:00 pm until 4:00 pm to celebrate the installation of a new and permanent collection of etchings created by Gustave Hoffman (1869 – 1945).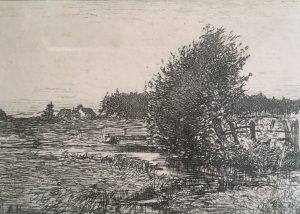 A resident of Rockville Mr. Hoffman studied art and become known for his paintings and especially for details and hues of his etchings.
A collection of Mr. Hoffman's etchings was recently donated to the Vernon Historical Society by Mr. Michael R. Sharon in honor of his father and mother, Dr. Michael and Jean Sharon, who provided medical care services for many community members in the Vernon/Rockville area.
The Vernon Historical Society is honored to receive this gift of beautiful Hoffman etchings. They will be permanently displayed in the Museum section..
Dr. and Mrs. Sharon will be present during the Open House and are looking forward to seeing former patients and friends.
For more information or questions, please call the Vernon Historical Society at 860-875-4326 or email us at vernonhs@sbcglobal.net.