Museum Schedule
Our hours are Thursdays 10am to noon and 2pm to 4pm and on the second and fourth Sundays from 2pm to 4pm. We are also open by appointment.
Masks are optional. You can contact us for research assistance by phone, 860-875-4326 or by email, [email protected]
VHS Fund Raisers
Book Sale 2023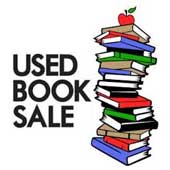 We are happy to accept new or used books in good condition, including
children's books. Also needed are DVDs, and Audio Books.
Please no encyclopedias, dictionaries, thesauruses, VCR tapes, cassette tape, records
or music CDs.
Books must be clean, odor-free and in sellable condition.
DROP OFF Location:
     Vernon Historical Society, 734 Hartford Turnpike (Route 30) Vernon, CT
Tuesdays and Thursdays 10am to noon and 3pm to 5pm.
Book Sale Update: Back by popular request we are happily accepting donations on the following Sundays, weather permitting so snow or rain is in the forecast, check our Face Book page
New Sunday drop-off dates: March: 12th and 26th from 2:00 - 4:00 pm
Click here for information about dates and time of the Sale.
A Generous Bequest
The Society recently received a bequest of $10,000 from the estate of Gladys Vincent who passed away on January 10, 2022 at the age of 100 years. A long-time resident of Rockville, she attended local schools, later working as a machinist at the Hockanum Woolen Mill and United States Envelope Company. During her retirement, she enjoyed working on the Society's Craft Fair and Book Sale. Once a project has been selected for the bequest, a plaque in her honor will be placed in the Society's home in the former Vernon Grange. The Society greatly appreciated her decision to remember us in her will.
2022 Grant Updates
Discover Vernon: A Guide to Walking Trails and Historic Attractions.
With funds from an Operations Grant from CT Humanities and from the Vernon Greater Together Community Fund supported by the Hartford Foundation for Public Giving, we were able to hire a graphic designer to create a map/brochure that highlights the town's walking trails and historic attractions. The online version of the map is located on the Society's web site. The Vernon Town Council agreed to fund printing 10,000 copies which will be available at locations throughout town.
Newspaper Digitization Project. The funds from the CT Humanities Operations Grant were also used to hire a consultant with a background in digitizing newspapers to prepare a report that will provide a roadmap for getting our historic papers into an online format. In her final report the consultant provided an assessment of our papers on microfilm, assembled a list of vendors for the scanning of the reels and made recommendations for hosting sites for the online content while also covering copyright and developing a budget. With the information contained in this report, the Newspaper Digitization Advisory Committee can determine what the next steps are to making our historic local papers available online.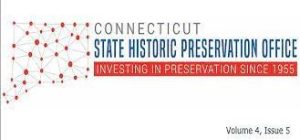 Window Restoration Grant. The windows in the Museum building are nearly 100 years old and need restoring. We applied for a matching grant from the State Historic Preservation Office to complete this project. We were delighted to receive $40,825. Next year the windows will be restored, using the original components whenever possible to retaining the historic character of the building.                                                                           
Band of Steady Habits Concert. To cover the fee for bringing back this wonderful band for our October 2022 meeting, we successfully applied for to CT Humanities for a Sponsorship Grant for the amount of $500. The Band was in top form for their appearance at VHS.
Discover Vernon: a Guide to Walking Trails and Historic Attractions
Our map features 13 walking trails and 10 historic attractions. Happy Exploring!

Spring Programs
"Rockville High School: 150 Years of Excellence and Community"
Exhibit and Lecture   
The year 2023 marks the 150th anniversary of the first graduating class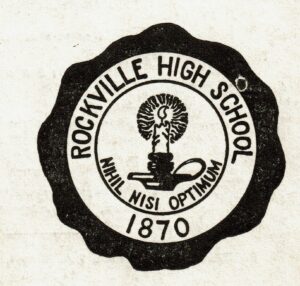 of Rockville High School. To celebrate this event, an exhibit and lecture at the Society will be presented by Museum Director Jean Luddy.
The exhibit will open on Sunday May 21st from 2pm to 4pm. RHS students, past and present and all members of the public are welcome to attend. The exhibit will include displays with information about the history of the high school at its four locations. A narrative timeline will provide highlights on various aspects of the high school experience. Visitors will enjoy viewing objects from our collection donated by past students. The exhibit will remain in place until Fall 2023.
On Sunday June 11th from 2pm to 4pm Jean Luddy will present an illustrated lecture on the high school, discussing the growth of secondary education in Rockville and Vernon and sharing stories of students during their formative years and the teachers who mentored them. While certain events of high school life are unique to each class of students, there is a timeless aspect to the experience of high school that resonates with all students past and present.
VHS Video Productions
"Remembering World War II" - Video 
In October 2021 the successful premier of the video production of "Boosting Our Morale: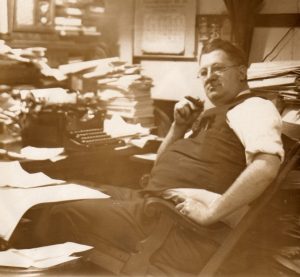 Soldiers' Letters to the Rockville Journal During World War II" occurred. The video consisted of readings from letters written to the editor of the Rockville Journal during the War by local men and women in service.  Members of the Rockville High School Drama Club read the letters accompanying the film.
For those who could not attend, the film is available on the Society's YouTube page.
Click here to follow the link
VHS Virtual Fall Program "Goes Live"

 
"History in Plain Sight: Monuments & Memorials in Vernon Connecticut" a special video presentation  will serve as our Fall Program for 2020.
 The video is available at the Society's You Tube page. Go to youtube.com. Then search for Vernon Historical Society or use this link. https://youtu.be/3gKPPRwof4g 
Click here for a map of the locations featured. in the video.
The video was created with the assistance of VHS volunteers and members of the community. M5Digital Technologies donated their time to assemble the images and voiceover recordings into a finished film.
"History in Plain Sight: Monuments & Memorials in Vernon Connecticut" was designed to highlight places in town with historic significance. Another purpose for the film was to encourage viewers to visit these places, in effect combining education with exercise.
You have your assignment. Watch the film. Then go find the places.
The Art of Gustave Hoffman (1869-1945)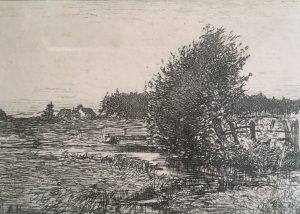 An exhibit of the etchings by local artist Gustave Hoffman is on display at the Museum. The pieces were collected by Michael Sharon and donated in honor of this parents, Dr. Michael and Jean Sharon.
Click here for a short video about this special exhibit.
The Vernon Historical Society is a volunteer operated, non-profit organization. The purpose of the Society is to create interest and activity in the field of local history.
The Museum building serves as a repository for a variety of collected materials that are available to the general public for research.
These collections aid historians, genealogists, and interested citizens in research, and provide source materials for exhibits, publications and programs.
During Museum hours, volunteers are present to answer questions and provide access to collected materials.
Get Some CT History with Your Morning Coffee!
A new story from our state's history can appear in your email when you subscribe to Today In Connecticut History brought to you by the Office of the State Historian. Click here to learn more and start your subscription today!
 Virtual VHS
Visit our Facebook page to see weekly postings in our new series.
From the Archives will start in August 2020. The series will feature photographs of intriguing and informative items from our collection.