Special Fund Raiser! Starting May 1st and through the month of May,  the Vernon Historical Society will receive the $1 default donation for every reusable Community Bag purchased at the Stop & Shop located at 10 Pitkin Road, Vernon. Support the Society and purchase the Community Bag today!
The Vernon Historical Society is a volunteer operated, non-profit organization. The purpose of the Society is to create interest and activity in the field of local history.
The Museum building serves as a repository for a variety of collected materials that are available to the general public for research.
These collections aid historians, genealogists, and interested citizens in research, and provide source materials for exhibits, publications and programs.
During Museum hours, volunteers are present to answer questions and provide access to collected materials.
The Society will be open on Saturday, June 8th from 10am to 3pm to welcome visitors to see our photography exhibit from the book Vernon, Our Town. Visitors can enter a drawing for two free tickets for the Tankerhoosen bus tour. Anyone who signs up as a new member can select a special gift.
The Book Sale Is Coming!!
Check the Book Sale tab under Calendar for info about the Sale.
Click on Calendar for the schedule for work days and Sale days.
Please donate your books and visit the Sale!
Get Some CT History with Your Morning Coffee!
A new story from our state's history can appear in your email when you subscribe to Today In Connecticut History brought to you by the Office of the State Historian. Click here to learn more and start your subscription today!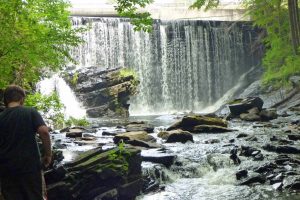 On Sunday, June 2, 2019, at 2:00 pm the Vernon Historical Society presents "The Tankerhoosen: Vernon's Quiet Valley". Architect Robert Hurd, will share his extensive research about this area of our town.   We encourage everyone to come and learn more about Vernon's "quiet and beautiful corner."

As an added feature, we have arranged for a guided bus tour through Vernon's Quiet Valley on Sunday, June 9th beginning at 1:00 pm and leaving from the Vernon Historical Society parking lot.  Tickets may be purchased for $10 during the June 2nd meeting or by calling the Vernon Historical Society at 860-875-4360 after June 2nd.
Click here for more information about the lecture and the bus tour.
New VHS Exhibit for 2019
To accompany the recent revision of Vernon, Our Town, a special exhibit in the Museum will display objects and photographs from the Society's collection that were chosen for the book. These rarely seen items will be on display during Museum hours- Thursdays 2pm to 4pm and on the second and fourth Sundays from 2pm to 4pm.