VHS Fund Raisers
VHS Book Sale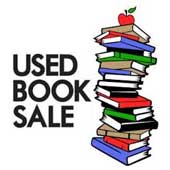 VHS Annual Book Sale
Saturday May 7th last day of Book Sale
All Books,  CD's,  DVD's are half price!!
Saturday, May 7th- 10am to 4pm
(Closed on May 8th for Mother's Day)Thursday April 28th- 6pm to 9pm
VHS Receives Two Grants!
Vernon Historical Society along with five other Vernon organizations was awarded a Cultural Fund Operating grant from the Connecticut Humanities. The funds are intended to provide operating support to the organizations in the face of the pandemic. The funds are a welcome relief and will enable the organizations to resume and expand services that had been curtailed during the past two years. The Vernon Historical Society plans to use its award of $7,100 to digitize its historical data, now available only in hardcopy at the Society. Valuable historic information will then be readily accessible to researchers.
Hartford Foundation grant on behalf of the
Vernon Community Funds.
The Society received a grant of $2,500 to research and prepare a community map to promote awareness of Vernon's walking trails and historic attractions. We will employ a graphic designer to put our thoughts and information into a double-sided format which will include QR codes that link to other community resource sites. The map will be available in hard copy and online to encourage residents and visitors to explore our town and appreciate its rich history.
June 2022 Meeting

Ripped from the Headlines:
A Newspaper's View of Progressive-Era Rockville, 1911-1913
On Sunday June 12, History professor Donald Rogers will offer attendees a glimpse into early 20th century life in Rockville. Using front-page newspaper stories taken from Rockville Journal, Dr. Roger's presentation will provide information about what was happening in Rockville during this period offering ten lively glimpses of Rockville life at the time – a mill owner's society ball, a saloon keeper's retirement, woman suffrage lectures, a mill worker strike, city politics, trolley accidents and much more. For further information, click here.
Museum Schedule
Our hours are Thursdays 10am to noon and 2pm to 4pm and on the second and fourth Sundays from 2pm to 4pm. We are also open by appointment.
The Museum will be closed on Sunday May 8th for Mother's Day.
Masks are optional. You can contact us for research assistance by phone, 860-875-4326 or by email, [email protected]
"Remembering World War II" - Video 
On Sunday October 3rd at 2pm, successful premier of the video production of "Boosting Our Morale: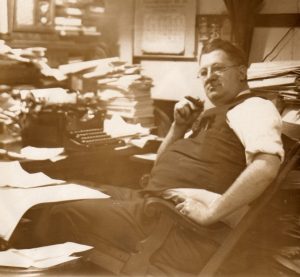 Soldiers' Letters to the Rockville Journal During World War II" occurred at the Fall Meeting. The video consisted of readings from letters written to the editor of the Rockville Journal during the War by local men and women in service.  Members of the Rockville High School Drama Club read the letters accompanying the film.
For those who could not attend, the film is available on the Society's YouTube page.
Click here to follow the link
An exhibit of posters, uniforms and artifacts from the Society's collection will be on display in the exhibit space in the Museum area downstairs. Visitors can see the exhibit on Thursdays from 10am to noon and from 2pm to 4pm and on the second and fourth Sundays of each month.
For more information about the exhibit or to schedule a visit, please call the Society at 860-875-4326 or email us at [email protected]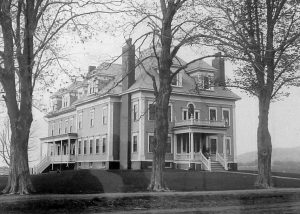 New & Notable: Research Materials on the Tolland County Temporary Home for Children
Researchers Chris and Cheryl Klemmer presented a program in 2018 on the Tolland County Temporary Home for Children which was located in Vernon Center from 1887 to 1955.
They have generously allowed VHS to post materials from their research specific to the Tolland home along with a document that provides guidance on searching in records from Connecticut county homes. There is also a link to a 1931 article on the Vernon Center home published in the Rockville Leader.
To view these documents, please click here.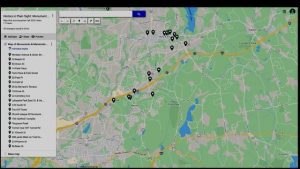 VHS Virtual Fall Program "Goes Live" 
"History in Plain Sight: Monuments & Memorials in Vernon Connecticut" a special video presentation  will serve as our Fall Program for 2020.
 The video is available at the Society's You Tube page. Go to youtube.com. Then search for Vernon Historical Society or use this link. https://youtu.be/3gKPPRwof4g 
Click here for a map of the locations featured. in the video.
The video was created with the assistance of VHS volunteers and members of the community. M5Digital Technologies donated their time to assemble the images and voiceover recordings into a finished film.
"History in Plain Sight: Monuments & Memorials in Vernon Connecticut" was designed to highlight places in town with historic significance. Another purpose for the film was to encourage viewers to visit these places, in effect combining education with exercise.
You have your assignment. Watch the film. Then go find the places.
Cool History Links to Explore
Lost Mill Sites in Tolland County  Each day a picture of a mill site appears with a clue to its location. The answer with historical background is revealed on the next day.
Manchester Herald Newspaper database Search digitized copies of the Manchester Herald newspaper which also carried news from Vernon and Rockville.
The Vernon Historical Society is a volunteer operated, non-profit organization. The purpose of the Society is to create interest and activity in the field of local history.
The Museum building serves as a repository for a variety of collected materials that are available to the general public for research.
These collections aid historians, genealogists, and interested citizens in research, and provide source materials for exhibits, publications and programs.
During Museum hours, volunteers are present to answer questions and provide access to collected materials.
Get Some CT History with Your Morning Coffee!
A new story from our state's history can appear in your email when you subscribe to Today In Connecticut History brought to you by the Office of the State Historian. Click here to learn more and start your subscription today!
 Virtual VHS
The COVID-19 virus prevents museums and local destinations from welcoming visitors physically. Like other venues, the Vernon Historical Society is sharing online content featuring unusual or fascinating materials from our collection .
Click here for a short video about the recently installed collection of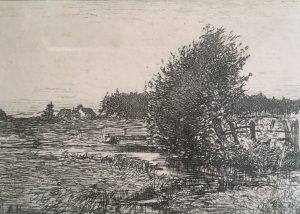 etchings by local artist Gustave Hoffman. The link to the video will appear on the bottom left of the screen.
Visit our Facebook page to see weekly postings in our new series.
From the Archives will start in August 2020. The series will feature photographs of intriguing and informative items from our collection.